EM soap is made from high-quality natural oils and fats. It is saponified with caustic soda after which EM is added in the cooling process. To EM soap are no synthetic additives added such as perfume, bleach and moisturisers. It is mild for the skin. EM Soap is 99% pure soap and does not harm nature and the environment. This way you can also let your skin enjoy their positive effects.
The soap is gentle on the skin, and suitable for all skin types. There are 2 variants available: a kitchen soap, for washing hands and a bath soap, for daily general hygiene.
Instructions for use:
Rub the soap with water between the hands until a thick foam is formed. Apply the foam to the parts of the body to be cleaned and rinse generously with water.
Both EM soaps is a tablet of 100 grams.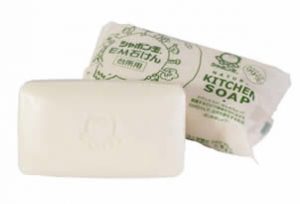 ---